HACCP and / or Food Safety important?
Maybe the best for you!
Lecaro is a pallet production company, specialized in the production of wooden pallets, mainly for the Food and Pharmaceutical industry. For both of these industries, we are the only pallet company in Europe and Africa that is HACCP certified (for the Food Safety Program). All of our business processes are geared to that and with customers in Europe and Western Africa we can rightfully call ourselves a market leader in this industry.
Perfect Pallet
Itís not only the clean production and responsible choices that are
extremely important to our customers. Itís also our years of
experience and our well-informed nature (also with our customers)
that allow us to deliver a perfect pallet that will not cause any
problems at our customer. Free of fungi, Heat Treated and Dust free
are concepts that sound extremely familiar to us.
Certainty first
Of course, our customer donít just care about receiving the perfect
pallet, they also want guarantees that they will receive their delivery.
For that reason, we donít work with transportation companies, like
many of our fellow companies do. Instead, we use or own transport
facilities to make sure that you are guaranteed to receive the pallet
exactly when you need it.

You let usknow the desired
date and time, and your pallets will be there.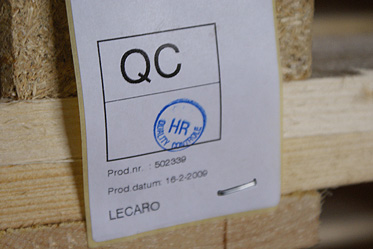 ---